Trick Exhaust Whistle - Funny Prank Joke Gag Gift
This classic trick exhaust whistle prank has been around for generations, but it still works today. You simply place the trick exhaust whistle on the exhaust pipe of someone's car. When they drive down the road the tip causes the car to whistle while they are pressing on the gas pedal. The whistle becomes so annoying after a few minutes, but the poor sucker has no idea where it is coming from!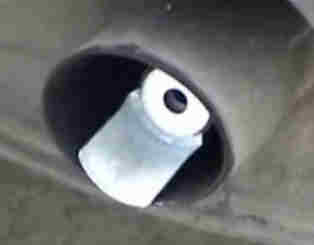 CLICK HERE TO SEE A VIDEO OF THE TRICK EXHAUST WHISTLE!
"I put my trick exhaust whistle on my mom's Honda and she pulled over freaking out!"
- Jim Meadows
"I want to thank the trick exhaust whistle for the sweet revenge I got on my ex girlfriend. YES!!!"
- Adrian Carson
"The trick exhaust whistle sounded awesome on my friend's Honda Accord! I love it!!!"
- Kellie Anderson
TRICK EXHAUST WHISTLE WORKS ON ALL CARS!
Push the trick exhaust whistle up ANY car truck or car exhaust pipe

All major credit cards and PayPal accepted
Your turbo whistler will be shipped same day ordered by USPS Mail with tracking number
Please allow around 3-5 days for delivery
Wholesale Orders - Link to Us - Video Contest - How to Install Turbo - Street Racing Videos - Drag Racing Videos - Sportbike Racing Videos - Drifting Videos - Burnout Videos - Car Makes Models - Car Clubs - Car Racing Videos - Auto Racing Videos - Formula 1 Racing Videos - Off Road Racing - Go Kart Racing - Car Crash Videos - NASCAR Racing - Muffler Exhaust Systems - How Turbo Works - Turbocharger Videos - Supercharger Videos - Exotic Cars - Dyno Videos - Demolition Derby - Indy Racing - Monster Trucks - Speedways - NASCAR Drivers - Concept Cars - Import Tuner Cars - Turbo Sound - How Turbochargers Work - How Superchargers Work - Car Shows - How Nitrous Oxide Works
Your Trick Exhaust Whistle ships same day ordered by USPS Mail